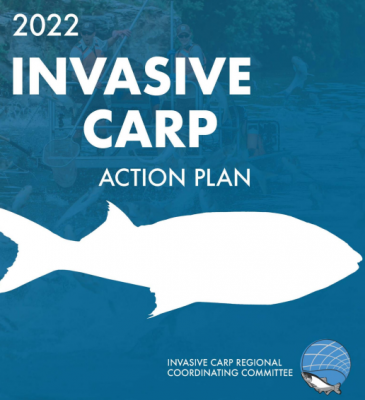 The Invasive Carp Regional Coordinating Committee (ICRCC) has released its 2022 Invasive Carp Action Plan, which details a series of projects focused on protecting the Great Lakes from invasive carp. The Action Plan will be the foundation for the work of the ICRCC partnership which consists of 28 U.S. and Canadian federal, state, provincial, tribal, regional, and local agencies.
The 2022 Action Plan supports key initiatives including:
The U.S. Army Corps of Engineers-led Brandon Road Lock and Dam Aquatic Nuisance Species Barrier Project in Will County, Illinois which incorporates structural and non-structural control measures to prevent invasive carp from moving upstream in the Great Lakes
Continued operation of the electric dispersal barriers in the Chicago Area Waterway System
Large-scale field testing and development of new technologies to block invasive carp migration
Illinois Department of Natural Resources efforts to increase focused commercial fishing to remove adult invasive carp in the upper Illinois River
Continued efforts led by Ohio and Michigan Departments of Natural Resources to remove grass carp in Lake Erie
Continued support for state-led efforts in basin-wide early detection monitoring and contingency response actions
The 2022 Action Plan is funded through the GLRI, annual agency appropriations, and the Bipartisan Infrastructure Law (BIL).