Post Date
November 2, 2021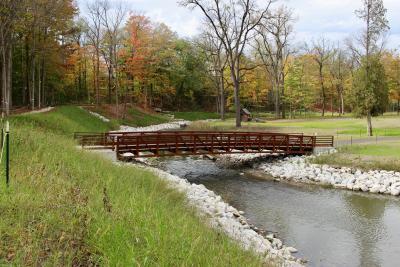 On Friday, October 15, Kenosha County, Wisconsin, hosted a ribbon cutting ceremony to celebrate the completion of riverbank stabilization as part of the Pike River Phase II Restoration Project. The county invited the public to celebrate the environmental accomplishment. The ceremony included speakers from the Wisconsin Department of Natural Resources, the Fund for Lake Michigan, and local stakeholders. Attendees were able to tour the newly restored site in Petrifying Springs Park.
This phase II project, built upon Pike River Phase I work, restored 3,280 linear feet of the river in Petrifying Springs Park. It will create improved habitat in the Pike River system (Kenosha and Racine Wisconsin Counties) and ultimately improve the quality of water flowing into Lake Michigan.  New trails were also built, creating more recreational access. 
The project was funded by GLRI, the Fund for Lake Michigan, WDNR and revenue from the Petrifying Springs Biergarten and Boundless Adventures.
Read Kenosha County's press release about the project and the event.