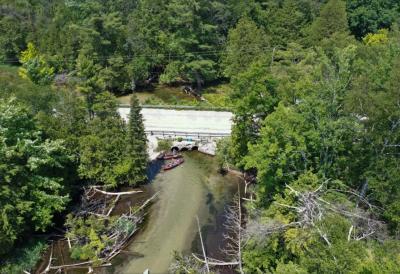 The Crystal River winds through sections of the Sleeping Bear Dunes National Lakeshore in northern Michigan's Lower Peninsula, an area that has been described as one of the most beautiful places in America. The double edge of such a label lies within the large volume of visitors that gravitate to the extraordinary hydrologic features showcased in Sleeping Bear Dunes National Lakeshore. The Crystal River near Glen Arbor hosts tens of thousands of paddlers each year. This anthropogenic pressure on the river builds on the negative impacts brought by problematic road-stream crossings that degrade stream connectivity where the stream and road networks intersect on the river's path to Lake Michigan.  
Undersized and/or improperly aligned road-stream crossings are a frequent sight on the landscape. Replacing an individual road-stream crossing brings local benefits to stream function, but when addressed at watershed or multi-watershed scales, the benefits of replacing such road-stream crossings are systemic and multigenerational.
Starting in 2023, the Grand Traverse Band of Ottawa and Chippewa Indians and the Conservation Resource Alliance are leading an effort to replace undersized bridges and culverts on the Crystal River. These road-stream crossings are located on County Road 675 where it crosses the Crystal River and at the Tucker Lake Outlet, a Crystal River tributary via Fisher Lake. Two crossings will be replaced with free-span timber bridges, and the third with a steel beam bridge. The new bridges will span the bankfull width of the Crystal River, opening 4.8 miles of river habitat to native Great Lakes fish species that are unable to navigate the elevated water velocities produced by the current structures. The project will also restore sediment and large wood transport, uncovering buried habitat and improving multiple reaches of this treasured river. The often-plugged culvert at Tucker Lake Outlet will be replaced with a larger aluminum box culvert, relieving both the hydraulic strain on the roadway and risk of failure during high water events, and restoring connection for aquatic species.
These efforts are in cooperation with the Leelanau County Road Commission and Sleeping Bear Dunes National Lakeshore, with funding from the Bureau of Indian Affairs, the Natural Resources Conservation Service, and the GLRI. This work is also showcased in a short documentary film entitled Restoring Aquatic Ecosystems.