Post Date
December 9, 2020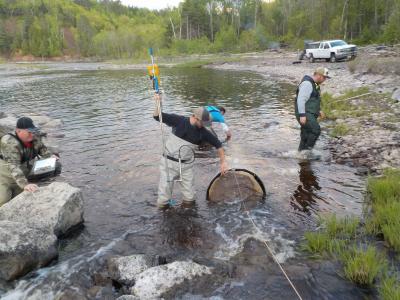 The 1854 Treaty Authority is an inter-tribal resource management agency governed by the Bois Forte Band of Chippewa and Grand Portage Band of Lake Superior Chippewa.  The organization is charged to preserve, protect, and enhance treaty rights and related resources in the 1854 Ceded Territory across present-day northeastern Minnesota.  Funding through the Great Lakes Restoration Initiative has supported many projects including lake sturgeon assessments in Lake Superior and the St. Louis River estuary. Lake sturgeon are both a culturally significant species for multiple Tribes in the Great Lakes region, as well as an important member of aquatic communities across the Great Lakes. Below are some of the important lake sturgeon efforts that were completed by the 1854 Treaty Authority in cooperation with multiple partners during the 2020 field season. 
Larval Drift Net Survey
The St. Louis River estuary is the largest tributary to Lake Superior.  A once healthy lake sturgeon population in the estuary was extirpated in the early 1900s due to overfishing, habitat changes, and pollution.  Sturgeon stocking efforts occurred in 1983-1994 and again in 1998-2000.  With these fish reaching maturity, efforts began in 2011 with other partners including the Fond du Lac Band to determine if natural reproduction is occurring.  Using fine mesh drift nets, larval sturgeon are captured to document reproduction.  Larval sturgeon were first detected in 2011 and also in many subsequent years (2013, 2017-2020).
Juvenile Trawling Survey
The 1854 Treaty Authority conducts bottom trawling surveys in the St. Louis River estuary three times each open-water season to develop an index of native and invasive fish species.  During these surveys and on other focused trawling efforts, juvenile lake sturgeon are targeted for capture.  Fish are scanned for previous tags and tagged if necessary.  Juvenile fish are strong indicators that natural reproduction has been occurring and that larval fish are surviving past early life stages.  Capture locations of sturgeon provide information on their habitat use.
Gill Netting Assessment
A Lake Superior sturgeon assessment occurs every five years across the lake through cooperation with many partners. The 1854 Treaty Authority participates in this assessment, and also conducts the survey on an annual basis near Duluth, MN.  The assessment is used to monitor recruitment, year class strength, and population trends over time.
More information including summary reports can be found on the 1854 Treaty Authority website.