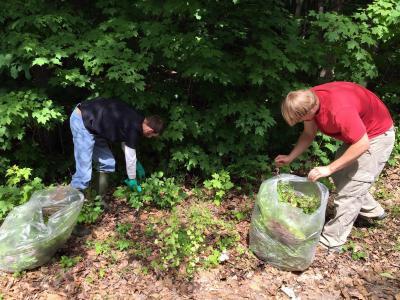 The USDA Forest Service has announced the funding of over $880,000 in Cooperative Weed Management Area (CWMA) grants to 23 programs dedicated to controlling harmful invasive plants in the Great Lakes region. These projects are funded through the Great Lakes Restoration Initiative under an agreement with the U.S. Environmental Protection Agency. They build on GLRI goals to protect and restore Great Lakes habitats.
This year, recipients within the Great Lakes basin states of Minnesota, Wisconsin, Michigan and Ohio received funding ranging from $15,000 to $40,000. Each recipient provides a minimum 20% match for this funding, in collaboration with state or local partners, donors or volunteers.
Organizations implementing these targeted management plans include partnerships of federal, state and local government agencies, tribes, individuals and others that manage invasive plants across jurisdictional and ownership boundaries and work together to address the most serious threats.
"The Forest Service is proud to financially assist organizations aiming to promote watershed stability and biological diversity within the Great Lakes watershed," said Robert Lueckel, Acting Regional Forester for the Forest Service's Eastern Region. "By monitoring and reducing the spread of invasive plant species, CWMA grant recipients make the Great Lakes basin a better place for people, wildlife, and native plant communities."
CWMA grant program - Learn more about CWMA recipients in your area and the Forest Service's Great Lakes CWMA grant program