Post Date
October 25, 2019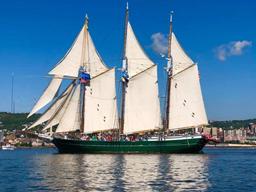 The Center for Great Lakes Literacy (CGLL) provides professional learning for educators from all backgrounds. One of CGLL's cornerstone programs is immersive Shipboard Science workshops. In August 2019, CGLL staff from Wisconsin and Minnesota Sea
Grants partnered with the Fond du Lac Band of Lake Superior Chippewa to combine traditional knowledge with western maritime history and science as part of a week-long voyage on Lake Superior aboard the replica three-masted schooner, S/V Denis Sullivan. GLRI funding for the workshops was provided by the U.S. Geological Survey through an award to the University of Illinois and the Great Lakes Sea Grant Network.
In addition to learning about tribal natural resource management, educators gained an understanding of Ojibwe cultural relationships to the environment, Tribal Treaty Rights, the history of Great Lakes tribes, and how tribes work with nontribal agencies along Lake Superior and Lake Michigan. The workshop culminated in a Great Lakes
Awareness Day event at the 2019 Tall Ships Festival in Duluth, Minnesota where educators shared what they learned with hundreds of people through demonstrations and hands-on activities. Participants will incorporate what they learned to engage their students on Great Lakes issues in classrooms around the basin.