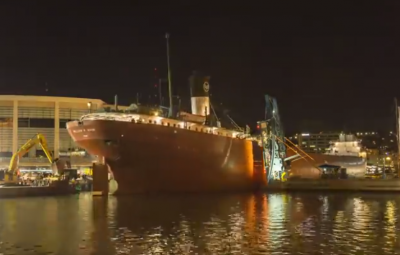 (Sept. 26, 2018) Overnight on Sept. 21-22, the retired freighter SS William A. Irvin was moved from the Minnesota Slip in Duluth to make room for a Great Lakes Legacy Act sediment cleanup in the Slip starting the first week of October. The sediment remediation project is one of many projects under way in the St. Louis River Area of Concern in Duluth, Minn.
The 610-foot freighter was moved from its home in the Slip through the opening of the pedestrian drawbridge with only 7 inches of clearance on each side. The retired freighter, now serving as a museum, was temporarily relocated to the Fraser Shipyard in Superior, Wis. for maintenance in preparation for the sediment remediation project.
A time lapse video of the move during the late night and early morning hours (Credit: Dennis O'Hara)
The Slip project will result in the remediation of about 37,000 cubic yards of sediments contaminated with Polycyclic aromatic Hydrocarbons (PAHs) and metals. The $5.5 million project is jointly funded by a partnership between the U.S. EPA Great Lakes Restoration Initiative (GLRI) and the Minnesota Pollution Control Agency in cooperation with the U.S. Army Corps of Engineers, the City of Duluth, and the Duluth Entertainment Convention Center.
The Slip cleanup project is expected to be completed by the end of the year, and the SS William A. Irvin will be returned to the Slip in the spring, where it will continue to be used as a museum.