Post Date
September 7, 2018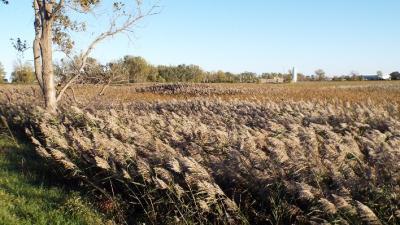 (Sept. 7, 2018) Phragmites australis (also known as common reed) is a tall, rapidly growing invasive grass found on beaches, wetlands, lakes and roadsides throughout the Great Lakes. It grows in dense stands that limit recreational access to beaches, shorelines, and wetlands, decrease property values, and reduce biological diversity by crowding out native plants and habitats.
The GLRI has provided unprecedented opportunities for scientists, managers, landowners and many other stakeholders to address this widespread invasive plant. The U.S. Geological Survey (USGS) is working with partners on science and other actions to prevent and control invasive Phragmites in the Great Lakes basin.
In 2012, the USGS, in cooperation with the Great Lakes Commission (GLC), led the formation of the Great Lakes Phragmites Collaborative (GLPC) to link people concerned about Phragmites to the information and tools they need to take actions to control this invasive plant.
The GLPC facilitates communication among managers, governmental agencies, private landowners and scientists in the Great Lakes region, and serves as a web-based resource center for information on Phragmites management, research and control tools.
Stakeholder and manager engagement fostered through the GLPC has improved the efficiency and coordination of Phragmites control actions leading to a science-based understanding of the most effective control strategies that achieve management objectives. Check out the GLPC website at www.greatlakesphragmites.net to learn more.
The Phragmites Adaptive Management Framework (PAMF) is a citizen science tool developed under the GLPC that establishes processes for recommending the most effective Phragmites control treatments based on adaptive management strategies. Data from monitoring and management activities from around the Great Lakes basin are used to determine which management actions have the best chance to reduce a Phragmites infestation.
Video: the Phragmites Adaptive Management Framework
Science and Tools for Phragmites Control
The GLRI Phragmites Decision Support Tool Mapper was developed jointly by the USGS, Michigan Tech Research Institute (MTRI), the U.S. Fish and Wildlife Service and the GLC. The mapper shows the distribution of Phragmites along the Great Lakes coastline and provides resource managers with information to strategically develop effective Phragmites control and invasion prevention programs.

Learn more about this tool and how it was developed:
The USGS is also working to develop innovative Phragmites control measures to keep Phragmites from further expanding its range and to aid in the development of successful restoration strategies. The USGS, Tulane University, Indiana University and Rutgers University are conducting studies and field tests to determine if bacteria and fungi that live within the Phragmites (called endophytes) are in some way enabling the plant to take over habitat used by native plants. Since developing and publishing a Science Agenda for microbe-based Phragmites control, the team continues to make steady progress towards the goal of identifying new control methods that may give land managers other options for managing this invasive species in the future.
The Phragmites Microbiome
Much like the microbes that naturally occur in humans, plants also interact with a diverse community of bacteria and fungi in all stages of their life cycle. Some of those microbes are helpful for the plant, while others are harmful. Current research efforts aim to control non-native Phragmites by helping the harmful microbes and/or inhibiting the helpful ones.
Helping Harmful Microbes
Using fungal pathogen microbes isolated from natural Phragmites field populations, the USGS, in partnership with Indiana University and Tulane University, has been testing the virulence of these microbes on the growth of Phragmites plants in the greenhouse to see whether they could help control Phragmites in the field.
Inhibiting Helpful Microbes
After identifying a mutually beneficial interaction between bacteria and the roots of non-native Phragmites, the USGS is partnering with Rutgers University to find ways to inhibit these root bacteria by applying organic treatments, thereby impeding non-native Phragmites growth.
We believe that these mutualistic bacteria may be important in helping Phragmites absorb nutrients. By controlling these bacteria on the roots, the productivity and competitive ability of non-native Phragmites could be severely reduced.
Gene silencing
Gene silencing is another technology being tested that may help control the spread of invasive plants by switching off a gene that, for example, contributes to the plant's ability to spread. Scientists at the USGS, Wayne State University and the U.S. Army Corps of Engineers are working to develop such an approach for controlling Phragmites. The research is focused on identifying and silencing genes that may give Phragmites a competitive advantage over native plants, such as those for flowering, seed development and photosynthesis. This control method, if successful, would only target Phragmites with minimal negative effects on native plants or animals.
With funding from the GLRI, the USGS and other agencies, organizations and stakeholders are taking actions to control invasive Phragmites to help meet the goals of the GLRI Action Plan for restoring the Great Lakes!
More Information about Invasive Phragmites and GLRI Science