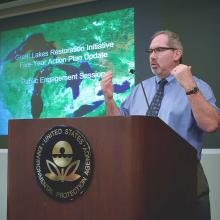 EPA and its federal partners are in the process of developing Action Plan III, which will outline priorities and goals for the GLRI for 2020-2024.
Feedback from Public Engagement Sessions
The federal agencies who are developing the plan would like to thank everyone who attended the Action Plan III Public Engagement Sessions last summer in Toledo, Rochester, Duluth, Milwaukee, Saginaw and Chicago.
Over 550 people participated in the sessions and we received additional feedback through more than 250 cards and messages.
We heard from agriculture, industry, tribes, states, academia, local government, non-profits, metropolitan planning organizations, and the general public.
You raised a host of issues and provided a variety of perspectives, many of which were based on widely-shared local concerns.
The key message we heard was to continue to work (at an accelerated pace) on Great Lakes environmental problems within the framework of the GLRI's five existing Focus Areas.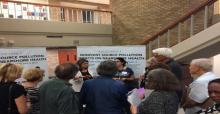 Participants said the GLRI should focus on:
Cleaning up toxic pollutants.
Keeping Asian carp out of the Great Lakes and controlling existing invasive species.
Reducing the causes and extent of harmful algal blooms.
Protecting and restoring important habitats for fish, birds and other species.
Continuing Great Lakes education and outreach efforts and filling in critical knowledge gaps.
Next Steps
Your input is helping us write the first draft of an Action Plan that will continue to address these significant and complex issues. We expect to make that draft plan available to you this fall, and ask you to provide additional input on it.

Action Plan III will identify five focus areas for environmental progress:
toxic substances and areas of concern
invasive species
nonpoint source pollution impacts on nearshore health
habitat and species
future restoration actions