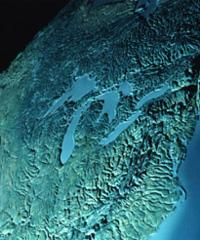 U.S. EPA will host a series of public engagement sessions this summer to update the public on the GLRI and to seek their input on future priorities. See EPA news release 6/1/18
At these sessions, members of the public will be able to
learn more about the GLRI Action Plan development process,
talk with representatives from EPA and other agencies, and
provide input on priorities to be used in the initial stage of developing the next GLRI Action Plan.
EPA and its federal partners are in the process of developing Action Plan III, which will outline priorities and goals for the GLRI for 2020-2024.
Action Plan III will identify five focus areas for environmental progress:
toxic substances and areas of concern
invasive species
nonpoint source pollution impacts on nearshore health
habitat and species
future restoration actions
The proposed plan is expected to be available for formal public comment this fall.
The schedule of public engagement sessions is: